Ahead of the announcement of this year's winner here's everything you ever wanted to know about the Zurich Portrait Prize,  courtesy of Curator Sarah McAuliffe, Curator at the National Gallery of Ireland.

"What I like most about the Zurich Portrait Prize is how it plays a crucial role in showcasing unique interpretations of portraiture. A portrait can be produced in so many different ways and it is really encouraging to see artists experiment with this art form in new and exciting ways each year."
Can you tell us a bit about the Zurich Portrait Prize and the process for selection?
Sponsored by Zurich Insurance, the aim of the Portrait Prize is to showcase and encourage interest in contemporary portraiture, and to raise the profile of the long-standing and constantly evolving National Portrait Collection at the Gallery. The competition is open to artists working in Ireland, and Irish citizens based abroad, across all media. The unwavering ambition and creativity of all of the artists who submit work to be considered for the Portrait Prize each year is what makes the competition possible. 2021 marks the 8th consecutive year in which the Gallery has held a portrait competition.
Each year, the winner of the competition receives a prize of €15,000 and a commission worth €5,000 to produce a portrait, of the National Gallery of Ireland's choosing, for inclusion in the National Portrait Collection. There are also two secondary prizes (€1,500) for highly commended works.
We were delighted to welcome artist and DJ, Eamonn Doyle; art historian, lecturer and curator, Róisín Kennedy; and Curator of Exhibitions at IMMA, Seán Kissane to form the judging panel for this year's competition. They had the challenging task of shortlisting 24 artworks from a total of 470 submissions! During the initial phase of selecting the shortlist, the judges view the works digitally and do not receive any information about the artist. Rather, they are presented with the image, title, medium and scale of each artwork. This makes the selection process as democratic as possible. When selecting the winner and two highly commended artists, the judges view the shortlisted works on display in the portrait gallery and engage in a great deal of discussion, reflection and thought. On the same day, the winner and two highly-commended artists are announced to the public during the annual awards ceremony.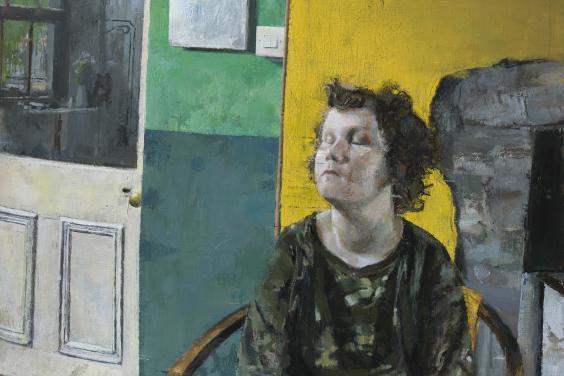 What I like most about the Zurich Portrait Prize is how it plays a crucial role in showcasing unique interpretations of portraiture. A portrait can be produced in so many different ways and it is really encouraging to see artists experiment with this art form in new and exciting ways each year. Additionally, it is brilliant to see works by both professional, up-and-coming and aspiring artists represented each year.
Are there any guidelines you outline when briefing your judging panel?
Each year, we let the judges guide how they would like to shortlist artworks for the competition and associated exhibition. We do not set any kind of criteria for assessing the artworks submitted to the competition, which has always worked well as it allows each of the judge's expertise, interests and passions to come to the fore and direct the judging process. This approach very much ensures that the Gallery's voice remains impartial during the shortlisting stage. Each year, the judging panel has approached the difficult task of shortlisting 24 – 26 artworks and ultimately selecting the winner and two highly commended artists with an open mind and an eagerness to learn more about contemporary portraiture. They approach all aspects of the selection process very carefully and thoughtfully.
Have you noticed any responses to Covid and our lockdown lives in submissions this year?
Yes, over the past two years we have seen the impact of Covid-19 and the lockdowns associated with it represented in a number of the submissions to the Zurich Portrait Prize. It is fascinating to see this theme being addressed in really moving and interesting ways, from portraits of loved ones behind plastic screens and artists working alone in their studios or homes that have had to double up as studios during a period of lockdown to activities that have come to define one's experience of lockdown and representations of those that one has endured the many months being confined to their homes with or apart from.
Can you tell us about the Young Portrait Prize?
2019 marked the inaugural year of the Zurich Young Portrait Prize, an inclusive art competition that aims to foster and support creativity, originality and self-expression in children and young people. The Young Portrait Prize is organised and curated by the Gallery's wonderful Education team. Each year, 20 artworks are selected for the shortlist and exhibition by a panel of three judges. The shortlist is spread cross 4 age categories: 6 and under; 7 – 11; 12 – 15; and 16 – 18.
Since the inception of the Young Portrait Prize, all of us at the Gallery have been really blown away by the extraordinary talent of young people across Ireland. Their creativity and imagination is inspiring and with each year's shortlist, more and more young people have been encouraged to submit their artworks for consideration. Since 2020, both the Zurich Portrait Prize and Zurich Young Portrait Prize exhibitions have been shown in the same gallery space and this has resulted in really interesting dialogue between both the artists and visitors.
You have been involved, from a curatorial perspective, in two major photography exhibitions in the gallery in recent times. Can you give us an idea of what this involves?
As Curatorial Fellow at the National Gallery of Ireland, I have been working to expand and develop the Gallery's collection of photography and programme of exhibitions dedicated to the medium for the past 3 years. I was delighted to co-curate the Gallery's first largescale photography exhibition, Moment in Time: A Legacy of Photographs | Works from the Bank of America Collection, which showcased iconic photographs from a collection that was shaped by two of the 20th century's leading photography curators and experts, Nancy and Beaumont Newhall.
While this was a travelling exhibition, myself and fellow curator Anne Hodge (NGI) had the opportunity to make our own mark on the curation of the 117 artworks included in it by choosing how we would present the works across five rooms, writing explanatory texts for each of the works and contributing to the exhibition design.
The support we received from all those involved in the project at Bank of America and the exhibition's original curator Deborah Klochko (Museum of Photographic Arts, San Diego) was extremely encouraging. It was a real honour to handle and write about artworks by artists that I have researched and admired for many years, including Julia Margaret Cameron, Edward Steichen, Dorothea Lange and Robert Frank. What is perhaps my fondest memory of having worked on this exhibition was meeting Samuel Sax, the man responsible for suggesting the creation of a corporate collection of photography for the bank during his time as its president in the late 1960s. This was unprecedented at the time.
My most recent photography exhibition at the Gallery is Picturing People, which runs until December 5 this year (so only a few more days to visit!). The aim of this exhibition is to celebrate humanity and all that it can endure as we start to climb out of a period marked by separation and isolation for much of the Covid-19 pandemic. This is a collection-based show that features some of the Gallery's most captivating photographs of people, from the introduction of photography to Ireland in 1839, right up to present day. It includes work by some of the preeminent figures in the medium's history, like Inge Morath, Lee Miller, Erich Hartmann and Elliott Erwitt, as well as those practicing photography in Ireland today, such as Eamonn Doyle, Aoife Shanahan and Anthony Haughey.
I approach curating any exhibition by first researching and thinking a lot about a potential concept and theme for a show. Once this is established, I start pulling out artworks that I think will speak to the concept in interesting and unexpected ways and collaborate with colleagues across numerous departments in the Gallery, such as Conservation, Education and Digital to bring the exhibition to life. If the show that I am working on includes work by living artists, it is very important to me to involve them in the process of planning the exhibition as much as I can and to consult them when writing texts about their artworks. This was certainly the case for Picturing People.
When it comes to a collection-based show like Picturing People it is really wonderful to see works that I have helped acquire for the photography collection over past number years being featured in it, especially having established long-lasting friendships with many of the artists, dealers and estate representatives involved in each acquisition. Above all, it is exciting to think that the Gallery's photography collection has grown to a point that the majority of the 76 works in Picturing People have neither been previously displayed at the Gallery, nor seen by audiences globally before. Thus, our visitors have the opportunity to see several new works in this free exhibition, which is made even more special having been separated from the collection, and art more generally, for much of 2020 and 2021.
Do you have a personal favourite within the Gallery's collection?
This is a tough one! So many artworks come to mind immediately. A work that really stands out for me is Goofy Kids, Dublin by the late American photographer Jill Freedman, made during her 1984 visit to Ireland. The strong sense of innocence and joy that pervades this photograph really appeals to me and whenever I look at it I am reminded of experiences from my own childhood and of days when I had few inhibitions like the children depicted in this work. I am a big admirer of Jill Freedman's practice overall and I am delighted that she is represented by 10 artworks in the Gallery's collection.
She became completely besotted with Ireland and the Irish during her first visit in the 1960s and made many trips back to the country throughout her career. She wrote in 2015, "I think of my work in Ireland as a love poem: a celebration of the beauty of the land, the warmth of her people…" The people she formed life-long friendships with here were equally captivated by her warmth and sense of humour.
Photo: Jack Caffrey
The Zurich Portrait Prize is on display at the National Gallery of Ireland until April 3, free admission.
UPDATE: This year's winner is Salvatore of Lucan
Me Ma Healing Me (oil on canvas)
"Salvatore of Lucan's mother practices sound healing and Reiki. Anytime he is at home and feeling unwell, his mother offers to practice her healing methods on him. He is admittedly a distant son and explains that he can be sceptical about some of the 'hippy stuff', but when her hands hover above him, he does feel his mother's love, and is aware that she is trying to heal him. In making the painting, Salvatore was inspired by the kind of uncanny, suspended feeling one finds in the alchemist paintings of Leonora Carrington."
nationalgallery.ie/art-and-artists/exhibitions/zurich-portrait-prize-2021