Because it can be really difficult to keep tabs on the ever-mutating worlds of house, techno, garage, dubstep and all the rest, Pick'n'Mix rounds up some of the best tracks, mixes, remixes, albums and DJ sets doing the rounds in clubs this week.
Track: Madteo – Dead Drop (When I Saw You That Nite)
Noi No is the new album from Madteo and it sees the New Yorker continuing with his rather left-field explorations of the grimiest techno known to mankind. The whole album is well worth your time but if you're going to pick one track, it's got to be 'Dead Drop'. Banging in a most peculiar way, it rumbles along before gripping you with a beat that doesn't let up until the full eight minutes have played through. Perfectly dark and grizzled, just like the man himself. Just look at those cheekbones…
[youtube http://www.youtube.com/watch?v=dS-h1zs57OE?rel=0]
—————————————
Remix: Call Super – No Fool (John Heckle Remix)
This whole EP is great with the brace of originals and both remixes offering a pretty heady take on energetic techno with just enough dirt to keep us interested. English knackered house pioneer (c'mon, it's not just Andy Stott) reinvigorates the second track, No Fool, via his array of vintage drum machines and battered synths. Alongside his own recent release, this remix shows Heckle pushing the limits of his approach into more unexpected territory, away from the ubiquitous dankness of today's clubs and into something far more cosmic and strangely uplifting.
[soundcloud url="http://api.soundcloud.com/playlists/2779466″ params="" width=" 100%" height="140″ iframe="true" /]
—————————————
Album: Vladislav Delay – Kuopio
You can usually expect something a little unusual from the Raster-Noton crew but this new one from the Finnish producer takes a step back from the all-out attack of his last release for the label. Kuopio is still mightily intense, but it wraps itself around the listener in a much more subtle and nuanced way. It's not exactly ready for the floor material (except maybe 'Avanne' or 'Marsilla') but the dedication to atmosphere makes this one of Sasu Ripatti's most engaging releases to date. A late addition to a stellar year for "outsider techno".
You can listen to the whole album on Spotify but here's a taster:
[youtube http://www.youtube.com/watch?v=ZM45CyfqBFY?rel=0]
—————————————
Mix: Harry Sword – Modern Primitive 3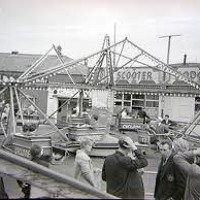 Discovered courtesy of the Queitus' Twitter, this stellar mix from their writer Harry Sword (yes, that's his real name) explores the darker edges of the club world that we're becoming so familiar with at the tail end of 2012. (*Insert Mayan Apocolypse joke here*). There are some big names included with tracks from the likes of Joy O, British Murder Boys and Karenn, but it's the exploring done in between that provides the best opportunity to get lost in the shadows.
[soundcloud url="http://api.soundcloud.com/tracks/70074605″ params="" width=" 100%" height="130″ iframe="true" /]
—————————————
Live: Pachanga Boys (The Button Factory, Saturday, 11pm)
It's a quiet enough weekend on the clubbing front but Pachanga Boys are here to make all your multi-coloured, I'm-in-love-with-the-world-and-everyone-in-it techno fantasies come true. It's all peace, love and understanding on the floor as the beats roll on into infinity and crisp chords take you upwards to minimal heaven. Hands in the air, people.
http://www.residentadvisor.net/event.aspx?412970
[youtube http://www.youtube.com/watch?v=dwG3KlGw11g?rel=0]