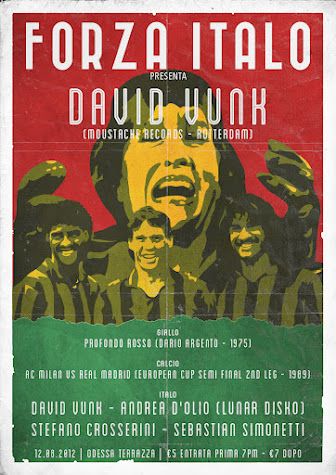 Forza Italo is one of our favourite new club nights in Dublin. It's refreshingly different, focusing on a relaxed and fun atmosphere, suited to its Italian theme. The night celebrates the best in Italian cultural history through the three strands of music, film and football and the crew have found a mine of wonderful memories and danceable beats. The night's third outing is this Sunday in the Odessa and in anticipation, we've got resident DJs Sebastian Simonetti and Stefano Crosserini (maybe their real names, maybe not) to compile us a vibin' playlist that will give you some idea of the buzz to expect. Simenotti himself explains it best:
Italo-Disco – the once-forgotten musical bridge  between late 70's American disco and Chicago house, joining the dots across the Atlantic, these electronic masterpieces combine heartbreakers and hammers in equal measure. Trying to come up with 10 was a real struggle here at Forza Italo HQ, so to get the full measure of the Italo-Disco sound, come along to the next Forza Italo Party at Odessa Terrazza on August 12th where we'll have guest DJ, David Vunk from Holland flying in to rock the discoteca. At each Forza party, we also celebrate the finest in those other pillars of Italian culture – football & 1970's Giallo movies. This coming Sunday, we'll be showing complete screenings of Dario Argento's Profondo Rosso classic and the 1989 European Cup semi-final second-leg between AC Milan and Real Madrid. Taking place once again up on the Odessa penthouse terrazza, Forza Italo will be the place to schmooze and carouse this summer Sunday afternoon and evening away. Forza!
Forza Italo
Forza Italo with David Vunk @ Odessa Terrazza, Sunday August 12th.
J.D. Jaber – Don't Stop Lovin [Memory] 1983
The golden year of Italo to many ears, this is probably my favourite Italo record on a label that rivals Discomagic for quality with quantity. Hand-claps, awesome vocals contemplating "hot & sexy ladies, living all around, every night a party, hot bodies on the ground' add in piano keys & gak-level treble synth – maginifico! Produced by Antonello Gabelli who was also behind Duke Lake (Do You) and Cheaps (Moliendo Cafe) which are two other hammers Picked it up by chance on the strength of the label & the year in a second-hand store in Melbourne in 2000 when I was getting into Italo strong and it's got played more than any other I have. Stone-cold classic of the genre. "Say you'll stay by my side..don't stop lovin'… tonight! tonight!" a motto for life indeed.

Jerry Moon – Over & Over [Blue Production] 1984
Massive horns over a rocking intro – grandstand stuff to set the scene, grammatically imperfect lyrics. Italo at it's absolute best. One other release in 1988 called 'Red Shoes' but it's not very good. This was the only release on this label and Renato Rovetta, the man at the controls did little else. Where is he now? Why isn't he making hammers all the time? The heartfelt broken dreams of Italo Disco…who knows?

Decadance – On & On (Fears Keep On) [Proto] 1983
A Franco Rago & Gigi Farina production. These guys are absolutely immense & could easily have put together a Top 10 of just their records under various production names ('Lectric Workers, Atelier Folie, Wanexa, Expansives, Pleasure Principle, Message from the Future, Cariocas). Decadance is emo-melancholo-Italo with spindly beats that sound like they were stuck together with sellotape and most amazing chords all wrapped up with super-deep haunting male and female vocals. Truly Epic. Great sleeve artwork too with the tearful Pierrot clown.

Blue Russell – I Wanna Fly Away [Discomagic] 1984
Manlio Cangelli on the stratospheric synthesizer buzz with Lorella Ghilardi on soaring vocals released on one of the most important Italo labels of the time. Not only was Cangelli in the group Scotch (he wrote the killer Penguins Invasion), he was also the maestro behind hammers such as New Dream by Clay Pedrini & Disco Halloween by Forbidden Fruits. I Wanna Fly Away rocks the Forza floor on any occasion – a firm favourite in 1984 and still kicking it almost 30 years later. Ace 'Top Gun'-esque sleeve too.

Boris Parker – Thinkin' Of You [VBDS] 1983
Superb sleeve artwork – like all the best Italo it's a complete package. Only two releases on this label and both killer, Models – J.R. Robot being the other one. This is a real story song-based Italo and doesn't get the props really it deserves in the pantheon of hammers but it's a killer heartbreaking hit. Not surprising when you look a the writers behind it who include the awesome Allessandro Novaga (Camaro's Gang, Cellophane, Models) who put out a seminal early drum-track release 'Faces – Drums' which is basically proto Chicago drumtrax from 1984 – hugely influential on the HotMix Five DJ team on WBMX.