Supersonic is a festival of experimental music and art that takes place in Birmingham's Custard Factory complex every year. Last weekend, it celebrated its 10th anniversary with a line-up of crazy artists and a host of extra-curricular activities including a vinyl rally, reverse kareoke and a market that left our wallets cowering in fear. Here's a selection of the best and most interesting music we saw there over weekend.
http://www.supersonicfestival.com/
Small But Hard Showcase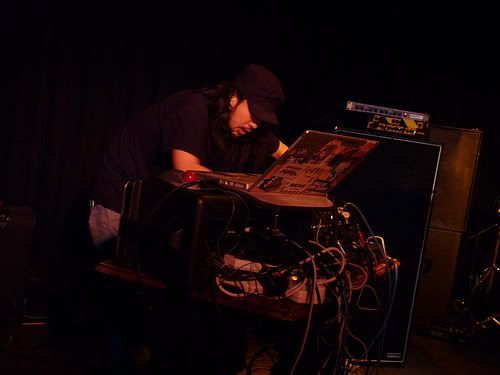 Small But Hard is a new label headed up by Shigeru Isiguru, otherwise known as DJ Scotch Egg. Founded earlier in the year, they had the Boxxed stage entirely to themselves on the opening night of this year's festival and they certainly made the most of it. Opening with the futuristic Asian dub jungle madness of Devilman, they proceeded to keep it heavy and hard for the next four hours or so. Devilman were a delight to witness, throwing down swung rhythms and insane noise with equal aplomb before being joined by two mysterious characters straight out of the matrix. Their exact purpose was unclear but they definitely added to the spectacle of the entire thing.
C_C's set was also a distinct highlight, as an empty stage gave birth to overwhelming noise that shifted and contorted itself into innumerable shapes, attacking the ears and firing synapses every which way at once. The sound's creator was nowhere to be seen, with the blank stage creating an mysterious negative space that invited speculation.
Kevin Drumm
Noise music is a strange beast. At one level it is all about process, bringing up questions about content and intent, resisting the audience, and on another is entirely about the audience as there can never be any real consensus on what makes up "good" noise music. If personal reaction is everything then Kevin Drumm's short set in the Old Library on Saturday was a revelation, dynamic and full of wonderfully diverse textures combining to create a framework of layered noise. A real ear cleanser that set up the rest of the night perfectly.
Zeni Geva
It's always interesting to see what happens when a style gets reinterpreted in a place thousands of miles away from the origins and lineage you're familiar with. Japan has a way with rock and punk music that is unlike anywhere else in the world and Zeni Geva are among the heaviest and craziest of the Japanese power rock crew. Combining the inimitable presences of KK Null and Ruins, the sound they manifest is a blown up monolith of hardcore punk. This is hardcore filtered through the most base of noise, taking the simple guitar/drums combo to new levels of intensity and overwhelming scale. It is nonstop force.
Flower/Corsano Duo
Chris Corsano has described his musical pairing with, Vibracathedral Orchestra member, Mick Flower as feeling like one long song, picked up and left down which each individual performance together. It is an analogy that certainly makes sense when you see Flower strike the first note on his resonant Japanese banjo instrument. Its tone feels eternal as it shifts and twists over time, always with that same heart beating somewhere in the midst of it all. On this occasion, it is Corsano who leads the transitions from the off, falling immediately into a quiet but intensely physical beat which he somehow develops into a stunningly wide spectrum of rhythms. The sheer physical wonder of what he does is difficult to ignore, and it is even more impressive that such individual virtuosity never obscures the bigger picture. While the dynamics of this particular set do sometimes feel a little predictable, the duo's inimitable flow is certainly worth riding on for a while.
Rangda
Rock and roll ain't dead, far from it. Though the current state of rock music in the press is a bedraggled mess of lightweight retro fetishists, there remains an undercurrent of musicians truly in tune with the revelatory spirit of loud guitars and pounding drums. Rangda are three musicians with three different understandings of that spirit, with Ben Chasny channeling cosmic jamming, Chris Corsano pounding out rhythms that approach standard beats as a novelty rather than the norm and Richard Bishop doing a stint as the playful older uncle, guiding and ornamenting the work of the others with a subtly brilliant touch. They are unlike any other band right now, opening a door onto a new future for the classic guitar solo and pulling their winding riffs every which way in service of a greater good. This is classic rock music at its most elastic and most exciting.
Thomas Ankersmit
A relatively new name on the scene of experimental modular synth noise, Thomas Ankersmit's set in the tiny theatre room on Saturday was a welcome respite from the more aggressive noise being pedaled elsewhere on the festival site. Bordering on drone, the German coaxes simple tones from his impressive synthesizer array before complicating them with ever more complex noises and scraps of sound, layering these elements until the listener finds themselves in the middle of a surprisingly solid sonic construction. It's the visibility of these layers which really makes the set so engaging. Your ears feel their way through each new element, admiring the way it meshes with what was there before hand before being pleasantly surprised by another new one at just the right time. Ankersmit's sound is concise and expertly thought out approach to tonal architecture and his set was a perfect example of that structure at work.